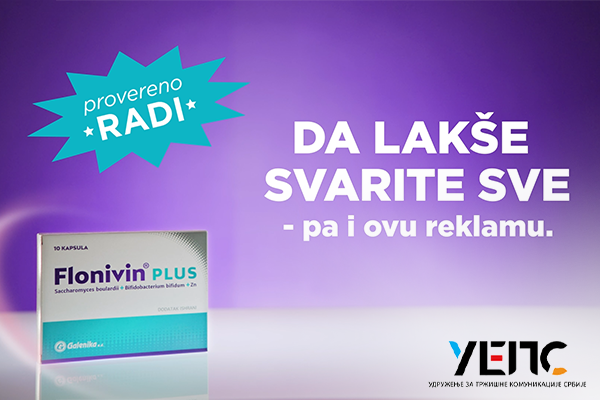 Belgrade, December 31, 2021 – For the second year in a row, Galenika received a prestigious award from the Association for Market Communications of Serbia (UEPS). This year, the campaign "Flonivin – to digest everything easier" was awarded, which with its specific humor represents a real refreshment in TV commercials.
As part of the prestigious competition for creative marketing communications called "UEPS Day", we are proud to inform the public that Galenika's campaign for our probiotic Flonivin Plus, called "Flonivin – to digest everything easier" won a bronze award in the category "Health and Beauty". The concept of the advertisement itself was designed with the support of our partner – creative agency BBDO Ovation.
In order to stand out in relation to the competition, we decided on parody in this advertisement. We played with the way advertisements are made for this group of products – beautiful, happy people who have fun with each other. As in a dream, there are no real problems, only imaginary ones. All problems are treated with such ease, which is almost a paradox.
In addition, the advertisement for Flonivin Plus is dominated by humor and satirical reviews of social topics. The UEPS recognition is a confirmation of our strong belief that satirical humor is a refreshment in TV commercials, which the professional and general public has recognized in the right way.
Probiotic Flonivin plus is a unique combination of probiotic cultures with the addition of zinc. It is intended to reduce the frequency and duration of diarrhea caused by the use of antibiotics, it is excellent for traveler's diarrhea, but also for constipation and bloating due to consuming heavy winter food.
And as the slogan of the ad says, "Flonivin – to digest everything easier!"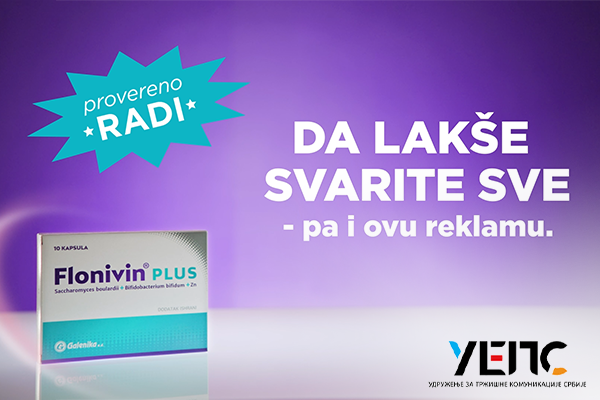 Leave a reply