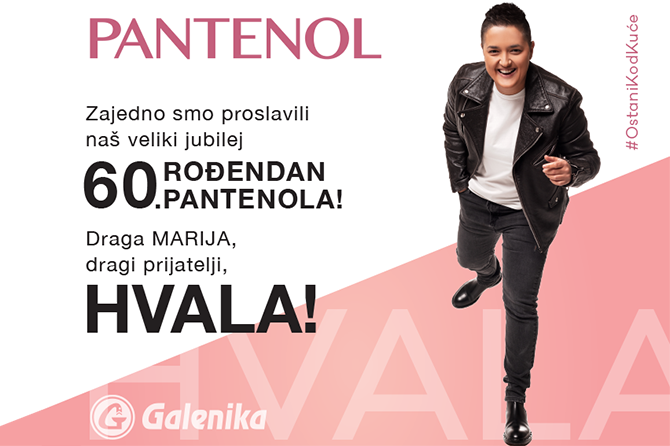 On Saturday, May 2, 2020, Galenika marked a very significant anniversary, which is the 60th birthday of the Pantenol brand. In extraordinary circumstances, we managed to organize an innovative and successful celebration through a home-online concert by a well-known singer and one of the biggest pop stars in the entire region – Marija Serifović. And we were the first – both in viewership and in the very creative concept of celebration, and with its tradition and success, our Pantenol deserves it.
The concert was seen by over half a million people from across the region, via social networks of Facebook and Instagram. Novak Đoković, our celebrated tennis champion, joined the celebration, by following the concert and through a short LIVE broadcast. We believe that we were able to brighten everyone up with the music and the new Pantenol colors last weekend.
We would like to thank Marija Šerifović and all those who contributed with their participation to make the celebration such a success!
A recording of the concert is available via Facebook at the following link https://www.facebook.com/officialmarija/videos/553807152186001/.
The celebration of such an important jubilee speaks in favor of the tradition of Galenika a.d. Beograd and Pantenol product quality and the fact that these go hand in hand with a modern vision for the future.
Thank you for your trust!
Leave a reply