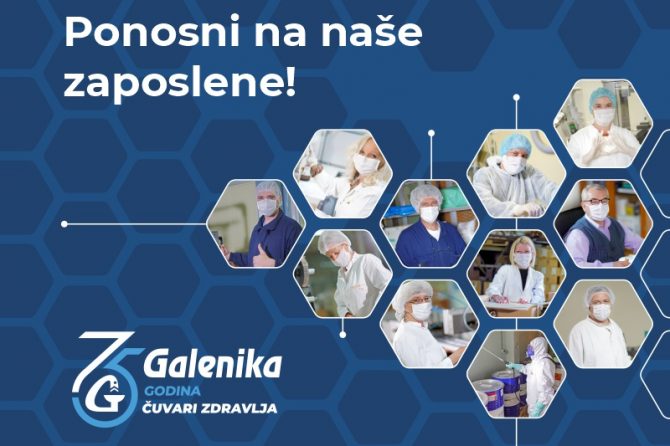 Belgrade, April 21, 2020 – Galenika a.d. Belgrade produced and placed 372,000 tablets of the drug Hydroxychloroquine Sulfate on the disposal of the Government of the Republic of Serbia. The value of the manufactured medicines, which Galenika will donate to the health system of the Republic of Serbia, is 400.000 euros. Hydroxychloroquine production is completed today and complete quantities will be handed over to the Republic Health Insurance Fund in the coming days.
The technology used in the production of Hydroxychloroquine was provided by EMS company from Brazil which is the owner of Galenika a.d. Belgrade since November 2017. Our colleagues from the parent company confirmed the adequacy of technological conditions, expertise and ability of Galenika employees to produce this, in the world during the pandemic of COVID 19, a highly sought after medicine by EMS technology. EMS, as its contribution to the fight the Republic of Serbia and its citizens are fighting against the pandemic, has donated complete technology for the production of the drug to Galenika. In this way Galenika was able to produce the quantities that we donate today to the citizens of Serbia, but it has also permanently acquired the production capacity to assist in its own production in cases of threatened regular supply or emergency needs of our health system.
"We share the concerns of the citizens of the Republic of Serbia in this difficult time. We are working hard to ensure continuity of supply and to provide security for patients and consumers by providing sufficient quantities of our products. Hydroxychloroquine production and donation is our contribution to the common struggle of Serbian citizens and an expression of our desire to support the efforts of the Serbian health system as a socially responsible company. Personally, I am glad that our parent company EMS from Brazil recognized the need and supported our local team in Serbia and our desire to help Serbia. We are all extremely proud of our Galenika employees who have worked hard and with great dedication and Easter to produce Hydroxychloroquine, "said Ricardo Vian Marques, General Manager of Galenika a.d Belgrade.
Last month, EMS from Brazil, initiated the initiation of clinical trials of Hydroxychloroquine in the treatment of COVID 19, which has so far proven effective in therapeutic combination with other drugs. As a result, Galenika immediately offered her knowledge and resources to actively support the national fight against COVID 19 in Serbia. EMS is manufactured in Brazil and is primarily intended to treat lupus, malaria and rheumatoid arthritis. The drug is introduced into therapy solely based on the opinion of the physician and their instructions on how to use this therapy.
Leave a reply